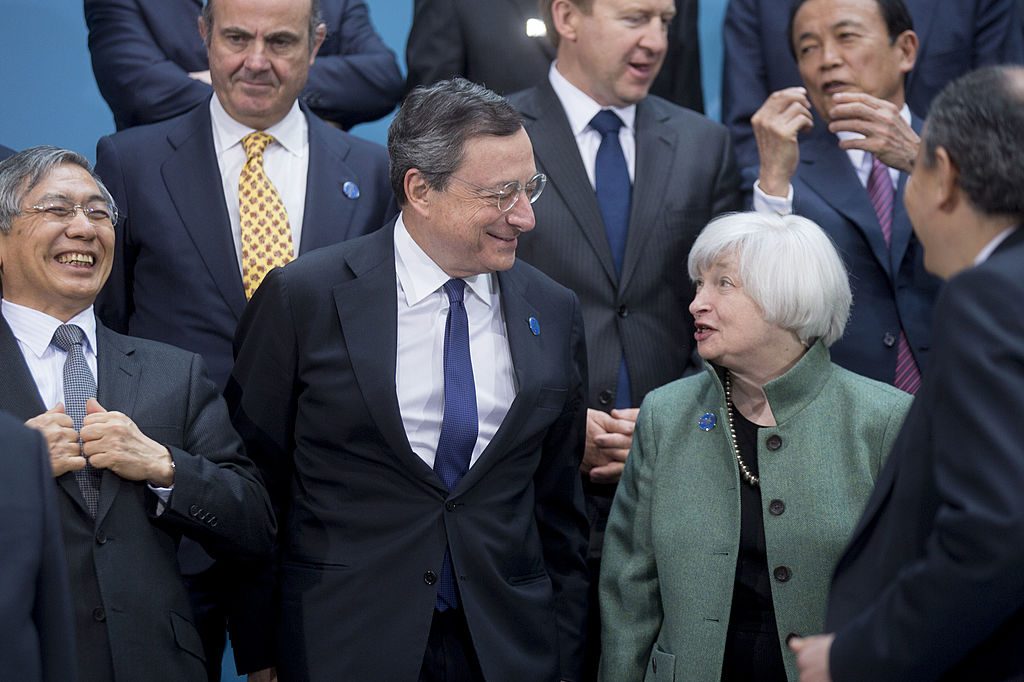 /
---
Central Banks
So I guess August 25th won't be a big deal after all. Reuters is reporting that "ECB President Mario Draghi will not deliver a new policy message at the US Federal Reserve's Jackson Hole conference, two sources familiar with the situation said, tempering expectations for the bank to start charting the course out of stimulus." The reason being is that he agreed to wait until the 'autumn' to discuss with his colleagues what to do with QE and he will honor that decision. Considering that the current program is scheduled to end at the end of December, he has no choice but to update us soon with what 2018 will look like in terms of purchases. While I don't believe this changes at all the content of the news and only impacts the timing of its delivery, the euro is lower in response and that in turn is what's lifting European bourses. As to what month we get the news, Reuters said that according to these sources, "October is the likely date for the most substantial decision given the incoming data schedule, particularly on wages." You can now all start your summer vacation now instead of waiting until August 25th.
….
The Fed minutes at 2pm est will be a focus today but Bill Dudley told you all you needed to know as we approach the September meeting. QT is starting. As for the December meeting, I'll say again, tell me where the S&P 500 will be then (and thus how it reacts to QT) and I'll tell you what the Fed will do. Either way, that meeting is not for a while so only focus on September right now. Thus, the minutes should be a non event with many thinking this, several saying that, some believing this, and a few expressing that.
---
United States
What a difference two weeks make in stock market sentiment. Investors Intelligence said Bulls fell 7.2 pts w/o/w to 50.5 and vs 60 in the week prior. As usually been the case though, most of these bulls that left are not really that bearish as all they did was go to the Correction side (a bull who wants to buy the dip) as this count rose to 31.4 from 25.5, the most in 5 weeks. Bears were up to 18.1 from 17 last week and vs 16.2 in the week before but the bull/bear spread is still pretty high. Last week's North Korea driven shaking of the tree certainly accounts for the moderation in bullishness as again, when Bulls get to 60 or above, the stock market tends to stall out strictly from a contrarian standpoint. So far this year, when it then subsequently backed off it set the stage for another leg higher in stocks so we'll see what happens now. But, the difference this time is more and more stocks are not participating in this bull market when looking at the number of stocks trading above their 200 moving averages.
….
The MBA said mortgage applications to buy a home fell 1.5% w/o/w to the lowest level since late February but they still remain up by 10% y/o/y. I'll repeat my belief that affordability is now becoming an issue. The NAHB's affordability index last week hit its lowest level since 2008. Refi applications rose by 1.6% w/o/w but are still down 40% y/o/y. The average 30 yr mortgage rate ticked down by 2 bps to 4.12%, the lowest November but will reverse next week with the uptick in Treasury yields.
….
For the 3rd month in the past 4 thru June, foreigners were back and buying US notes and bonds. In June it totaled a net $19.7b which brings the year to date purchases to $47.3b after net selling seen in 2016 of $326b. China really stepped up their buying of notes and bonds with a net add to their balance sheet of $21.1b after 3 straight months of selling. They added a similar amount of T-bills and the combination put them back on top as the largest foreign holder of US Treasuries. Japan was a net buyer of $22.3b of notes and bonds but that was swamped by either the maturation or selling of about $40b of bills. Europe and the Caribbean (aka, hedge funds) were net sellers of notes and bonds. Bottom line, it was really only China and Japan that turned positive on US longer term paper with the former helped by the temporary stabilization of their reserves. As the data is dated and flows come from every which way, it's never market moving.
---
Europe
The UK economy generated a net 125k jobs in the 3 months ended June which was above the estimate of 97k. This helped to bring the unemployment rate down by one tenth to just 4.4%, the lowest since June 1975. It bottomed at 4.7% in the mid 2000's expansion. Wage growth ex bonus' grew by 2.1% y/o/y which was one tenth more than expected and the most in 5 months. It still though is modest and the news comes a day after we were told that CPI rose by 2.6% in July after a 2.6% print in June. Soak these numbers in for a second. The UK has their lowest unemployment rate in 42 years and wage growth running below inflation and the BoE's sole mandate is price stability. And we have the BoE that is just completely paralyzed in their own minds by Brexit as they look in the mirror and believe that the most extreme monetary policy in the history of this institution is still necessary. Emergency policy? Do you see any emergencies that warrants the biggest balance sheet they've ever had, the partial nationalization of the country's corporate bond market and a benchmark rate of just .25%? The country and its businesses will adjust to Brexit regardless of what the BoE does. Lastly, the forward looking July jobless claims number saw claimants fall by 4.2k, the first drop in 5 months. The pound is not responding at all to today's data as its flat but yields are moving higher again along with the rest of European sovereigns.