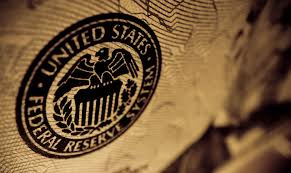 Here are the key bullet points from the just released Beige Book from the Fed:
"Most of the twelve Federal Reserve Districts reported that their economies continued to expand at a modest or moderate pace from early April through late May."
"Consumer spending softened with many Districts noting little or no change in nonauto retail sales, while auto sales have edged down from last year's record highs in several Districts."
"The majority of Districts continued to report moderate growth in manufacturing activity and in most nonfinancial service sectors."
"Construction of new homes and nonresidential structures also continued to grow at modest to moderate rates, as did sales of existing homes; nonresidential leasing picked up a bit."
"Lending volume trends tended to mirror (and support) the general activity of the economy."
"A majority of Districts reported that firms expressed positive near-term outlooks; however, optimism waned somewhat in a few Districts."
"Labor markets continued to tighten, with most Districts citing shortages across a broadening range of occupations and regions… most firms across the Districts noted little change to the recent trend of modest to moderate wage growth, although many firms reported offering higher wages to attract workers where shortages were most severe. A manufacturing firm in the Chicago District reported attracting better applicants and improving retention for its unskilled workforce by raising wages 10 percent."
"Despite supply constraints impeding the ability of firms to attract and retain qualified workers, most Districts reported that employment continued to grow at a modest to moderate pace."
"On balance, pricing pressures were little changed from the prior report, with most Districts reporting modest increases. Rapidly rising costs for lumber, steel, and other commodities tended to push input costs higher for some manufacturers and the construction sector. In contrast, some Districts noted falling prices for certain final goods, including groceries, apparel, and autos."
As the Fed is made up of Phillips Curve adherents that believe as unemployment goes lower, wage increases follow and then consumer price inflation moves higher, here are the specific comments on the tightening labor market that will result in more rate hikes from the Fed at the same time there are pockets of softness in the US economy, particularly in auto's and other sectors are seeing just moderate growth elsewhere. Any more questions on why the yield curve keeps flattening?
Boston:  "Labor markets remained tight, with employers facing limited supply."
New York: "Labor markets remained tight, and wages for skilled workers have continued to grow moderately. Input cost pressures have remained fairly widespread, while selling prices have increased at a modest pace."
Philadelphia: "On balance, employment, wages, and prices continued to grow modestly; however, wage pressures were noted in some regions and for some occupations — relieved at times by substituting capital for labor."
Cleveland: "Labor markets tightened, with employers looking to enhance benefits packages as a means of employee retention."
Richmond: "However, labor shortages persisted in most areas, keeping upward pressure on wages, while hindering growth in some industries."
Atlanta: "The labor market remained tight. Firms noted use of training programs to attract and retain workers. An uptick in wage growth was reported for high-demand positions."
Chicago: "Contacts continued to report that the labor market was tight and that it was difficult to fill positions at any skill level… Wage growth was modest overall, with increases more likely for high-skilled occupations. That said, a manufacturing firm that was expanding raised wages for unskilled workers 10% and noted a significant improvement in retention and the quality of applicants. A number of contacts reported a rise in benefits costs."
St. Louis: "Contacts continued to report difficulties finding skilled or motivated employees. Construction contacts in St. Louis, Louisville, and Memphis reported shortages of workers, with a contact in Louisville noting that the shortage has affected their ability to complete work. Contacts reported moderate wage growth since the previous report. On net, 61 percent of contacts reported wages and labor costs were higher or slightly higher than a year ago; however, a slightly smaller share expect increases in the third quarter."
Minneapolis: "Employment grew moderately since the last report, tempered by poor labor availability… A Minnesota staffing contact said, "We can't keep up. I have to say no to clients regularly – there is strong demand from our clients for talent," but a lack of available workers."
Kansas City: "Respondents noted a shortage of commercial drivers, skilled technicians, and service workers. Contacts in most sectors reported wage growth, and anticipated continued moderate wage growth in the coming months."
Dallas: "Overall employment rose moderately, and upward wage pressures were similar to the last report. Manufacturers added to payrolls, with some noting that labor shortages were putting pressure on wages… The construction labor market generally remained tight, although a slight easing in the availability of workers and an easing in upward wage pressures was noted… Leisure and hospitality contacts said they have not been able to fill many entry-level and seasonal positions due to a lower number and inferior quality of applicants compared with past years."
San Francisco: "The labor market tightened further, and wage pressures grew moderately."
Bottom line, these comments are all late cycle issues for the economy. Labor pressures are clearly building but companies at the same time are reluctant to accelerate wages in any noticeably fashion in the aggregate. That said, it's clearly happening in some areas and the Fed sees the pressure building. As seen in last week's Q1 GDP data, labor is getting a bigger piece of the profit pie which is great for them but negative for corporate profit margins. With respect to seeing a faster economy, it is these supply shortages of labor mentioned that puts a crimp on that hope.